Oyndarfjørður is located midway on the northeast coast of Eysturoy.
Special characteristics:
Oyndarfjørður is a beautiful blend of old and new, which continues to maintain its ancient atmosphere.
This area around the village is known for its spectacular scenery. Oyndarfjørður is located in a broad valley flanked by tall mountains. River Stóra runs through the valley and passes the church on its way out to sea.
Oyndarfjørður is an ancient village, which was once home to the dean and the King's representative. It is also said that the first hospital in the Faroes was located here.
The church, dating to 1838, is part of the old Sjóvartún town district by the shore, which is known for its characteristic 'Oyndarfjørður light'. It is one of only ten old timber churches still being used. This architectural gem elicits feelings of simple beauty and harmony. The altarpiece, by Danish painter C.W.Eckersberg, is a particularly stunning piece of art. Like other old church villages, this church has a so-called 'coffin slope' by the shore, which was used for loading coffins onto boats.
Rinkusteinarnir, or the rocking stones, are a famous landmark in Oyndarfjørður. Nestled by the shore, they are two huge boulders rocking back and forth with the ebbing of the sea. Legend has it that a local sorceress put a spell on two pirate ships, which ended up as terminally rocking stones.
At the bottom of the fjord is Stórisandur beach, which is a popular tourist spot in the summer. This is also home to the Faroese headquarters of fish farming giant MOWI.
The road to Oyndarfjørður has been listed as a 'buttercup route', which is a stretch of outstanding natural beauty.
Peace & tranquillity
Enjoy the simple beauty and the outstanding altarpiece in the church.
On summer days, take a slow walk up along river Stórá, take in the beautiful views before diving into the old swimming pool.
Lose yourself in the panoramic beauty as you lie on the Stórasandur beach.
Activities:
[/vc_column_text]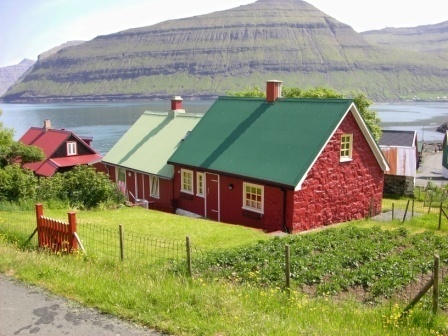 [/vc_column]
[cats_field group_id="2319″ field="upplivingar_kort" auto_loop="" excerpt="" post_id=""]
[/vc_row]