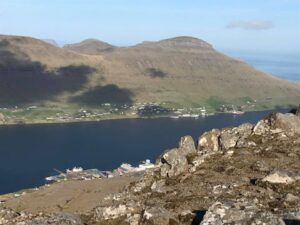 When you hike from Skála to Selatrað you have two options to choose from. One is to follow the path from the bridge across the river Gjógvará above the village Skála and continue between Borgarfelli og Kamb. This is also the old path which people form Skála used when they worked at the farm in Selatrað. Be careful not to walk too close to river at the beginning of the hike, as it can be very steep and difficult to cross.
This pathway is easy to follow and cairns indicate the track down toward Selatrað. This is a good hiking trip for families with children. When following the cairn path you are able to see the remains from the old peat shed.
On a beautiful day the view is extremely stunning. You are able to see over Skálafjørður to Tyril and Stórafjall.
The second pathway is close to the sports hall. Here you can follow the river Kulmá up to the top, and then you continue through Borgarfelli and Kamb. This is also the pathway that people from Selatrað used in the old days when they worked at the shipyard in Skála. This path is not marked with cairns but if you follow the river up to Trongannagjógv, there are cairns that shows the pathway down toward Selatrað.
The hiking trip is about 5 kilometer and takes around two hours.
The bus only stops at Selatrað during the school attendance, so if you do not intend to hike both ways we suggest that you arrange for a ride back.
When you hike on the mountains remember:
Do not hike when it is fogy
Tell somebody where you are going before you leave
Do not disturb the sheep or the birds
Keep the nature clean
It is tradition to put a small stone onto the cairns when you pass it