AUTHENTIC FISHING TOURS IN FUNNINGSFJØRÐUR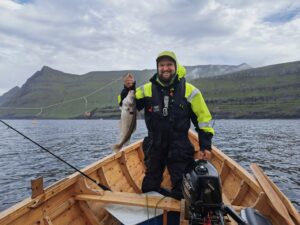 Funningsfjørður is one of the most beautiful fiords in the Faroe Islands. The landscapes are varied with gorges and towering mountains. You hear local stories and see wildlife. You cast a fishing line and may catch Atlantic Cod, Haddock and Whiting. The fish you catch is yours to keep. The tour has these variations "Fishing trip", "Guided boat tour", "Family tour" and "Fish, Visit & Dine".
Price:                  Adults 1.295 DKK and children 595 DKK
Time:                  Wednesdays and Thursdays at 09:00 and 13:30. Duration 4 hours. Season May-September
Meetingpoint:              Marina of Funningsfjørður
Included:          Flotations suit, boots, lifejacket, fishing gear, bait and a light meal
For more information and for booking visit www.boat.fo.