Guided Boat Tour in Funningsfjørður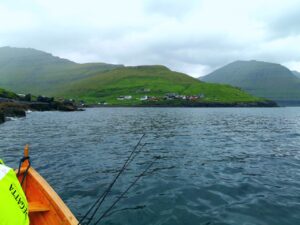 This is an authentic guided boat tour. You sail in a traditional Faroese boat – the utmost of Faroese handicraft.
Funningsfjørður is one of the most beautiful fiords in the Faroe Islands. The high mountains on both sides of the fiord give shelter from winds. The seashore is varied with gorges and interesting landscapes. Sailing by wondrous landscapes you hear stories about life on these shores in historic times and learn about activities on the fiord today.
You sail from the marina of Funningsfjørður on Eysturoy. Following the western seashore, you approach the beautiful village of Funningur set at the foot of Slættaratindur, the highest mountain of the Faroe Islands. You hear the saga of Grímur Kamban, the first landnamsman to settle the islands some 1200 years ago. You learn where he came ashore with his Viking longship.
You sail further to the cape of Funningsmúli where you sail into a grotto. To the east, you see the majestic island of Kalsoy.
The tour continues across towards the land by the village Elduvík. Sailing by the old boathouses you hear about the old fishing in traditional Faroese rowing boats. In the natural harbour of Elduvíksgjógv you enjoy a packed lunch and coffee. For centuries this gorge has been used as a harbour by the people of Elduvík. We bring fishing rods so that you can cast a line of the coast by Elduvík and try your fishing luck!
Sailing close by the shore and the cape of Elduvíksnes you return towards the Funningsfjørður marina.
Tour information:
Small-group tour: There are only up to 5 guests on each tour. This tour needs a minimum of 2 adult tickets to depart. By booking 5 tickets you ensure a private tour.
Available: By schedule from May through August and otherwise by request.
Price: Adults DKK1165, children 1-13 years DKK575
Duration: 3,5-4 hours
Activity: Boat tour, Storytelling, Sightseeing and Fishing
Difficulty: Easy
Languages: English, Faroese, Scandinavian