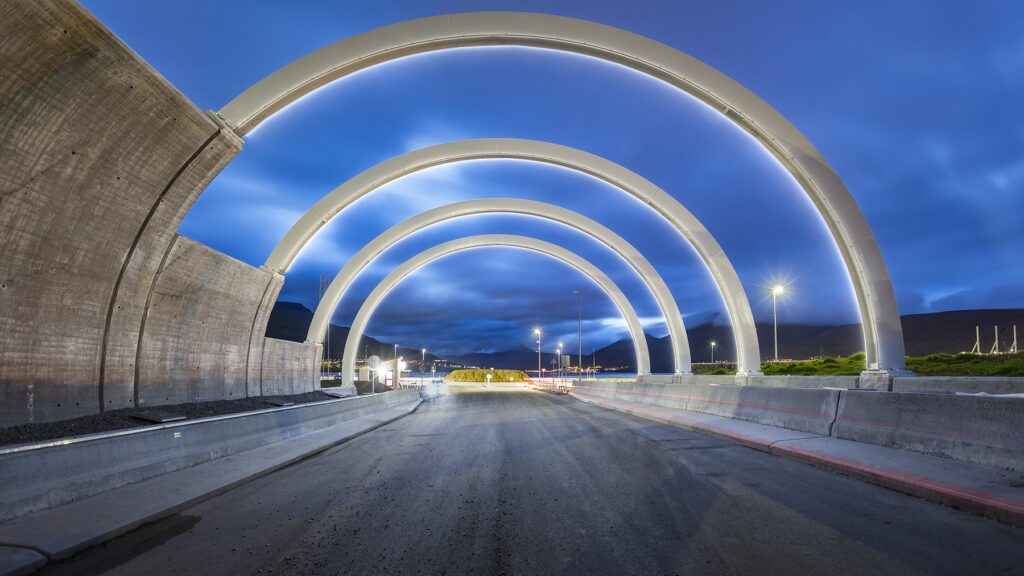 The Eysturoy tunnel (Eysturoyartunnilin) took almost four years to construct and finally opened on 19 December 2020.
The tunnel connects the fjord Skálafjørð and Tórshavn with a subsea tunnel, which is 11 kilometres long. Both sides of the bay of Skálafjørður are connected using two tunnels that connect to a roundabout under the seabed at mid-bay.
The Eysturoy tunnel has shortened the travel distance from Tórshavn to Runavík/Strendur from about 55 kilometres to 17 kilometres. The 64-minute drive has been shortened to 16 minutes. The drive from Tórshavn to Klaksvík has been shortened from 68 minutes to 36 minutes.
Toll payment
There are three sub-sea tunnels in the Faroe Islands. All of them charge a toll payment.
In Vágatunnilin you are only registered/charged when driving from Vágar, and in Norðoyatunnilin you are registered/charged while driving from Klaksvík.
You can either pay for a single return trip before or after driving through.
Payment online must be paid no later than 6 days after driving in the tunnel. Ekstra fee will be charged thereafter and the bill will be posted.
Visit tunnil.fo for more information.